Portable Mini Heat Sealer
Regular price
$29.99
Sale price
$19.99
Unit price
per
Sale
Sold out
Don't let . that the remaining snacks become stale or the drink powder becomes hardened. Seal them with this portable mini heat sealer!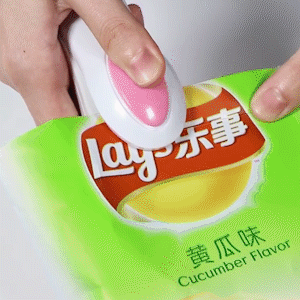 Just slide it along the edge of a bag and it's airtight in seconds! Keep your food fresher for longer with this convenient and hassle-free appliance.No need for snack clips and other unnecessary food savers! This seals the entire bag and keeps your food fresher for longer!
CHARACTERISTICS:
SEAL IN SECONDS:
Just press the mini food sealer and slide it over the bag. to get an airtight seal. They will lock your food/snacks in freshness and flavor. 
Multifunctional:
Seals most common plastic or aluminum bags. Keep all groceries (groceries . fries . candy . snacks . leftovers) FRESH and DRY.
 Easy to use: 
Just open the protective cover and press 5 seconds to preheat the device before use. Then press it onto any pocket and slide it along the edge. until it is airtight.
 Practical magnetic base: 
The device comes with a magnetic base. which can be attached to a fridge or iron/steel surface. so you don't have to search for it. Keep it handy in your kitchen. outdoors. in your closet or anywhere. where you need it.
 Portable: 
The device is compact. 10 cm long and battery operated. It is a handy tool to have at home. in the car. when traveling or camping.
Make this mini portable heat sealer your best household food storage partner!
SPECIFICATIONS:
Materials:   ABS and metal    
Size: about 10x4x4.5cm
Color: Pink / White
Batteries: 2 AA batteries
Package
         :1x Mini Portable Heat Sealer  
Share