Dog Toothbrush
Regular price
$79.95
Sale price
$39.95
Unit price
per
Sale
Sold out
Dog toothbrush non-toxic natural rubber
If we use the traditional method of brushing dogs' teeth. Dogs usually stay away. Because the ordinary toothbrush will bring the dog a terrible experience. with little effort. but without effect. and with great effort. the dog's gums will be injured.
Characteristics:
Made from eco-friendly. semi-soft rubber. BPA free. This is not a typical chew toy. not suitable for aggressive chewing. soft enough. so as not to injure dogs' mouths and teeth. but tight enough. to clean dental plaque. Cannot be destroyed easily.
Larger stabilizing base. easy for your dog to hold. Easy to clean with soap and water after use. Dries fast.
All-round cleaning: the dog brushes its own teeth in all directions. Press. to enlarge the hole above . and then squeeze in the dog's toothpaste. The toothpaste flows out of the 18 holes, helping the pet clean their teeth deeply.
Specifications:
Size: M: 12.5*4*12.5cm; L: 15.5*4.8*15.5cm
Weight: M: 90g; L: 158g
Colour: Blue. Green. Pink. White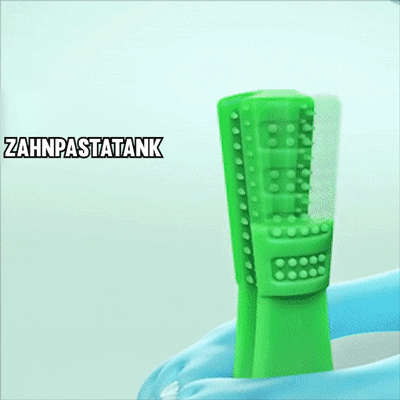 Hints:
Soft rubber may catch some animal fur hairs. simply clean with freshwater or use tape. Prevents direct strong sunlight.
Don't let your dog bite and chew the toothbrush at the same time for more than 15 minutes.
If your dog shows no interest in this toothbrush. you can use peanut butter. Coconut oil or other dogs like to press into the stick hole.
Package included
1* Dog Toothbrush-Non-Toxic Natural Rubber
Share